Individuality and Independence


Kindermusik Imagine That! takes the preschooler on a musical journey of discovery and exploration…a journey limited only by the power of imagination. Pretend play activities are integrated with music, vocal development, storytelling, movement, and literature to capture the preschooler's potential to learn and to encourage cognitive and literacy skills, creativity and individuality.

Designed for active, energetic, enthusiastic, and imaginative children ages 3 to 5, Imagine That! classes encourage socialization, sharing, and participating in group activities. Singing becomes a focus for enhancing the preschooler's vocal development as expressive language is just beginning to emerge.

Imagine That! Unit Descriptions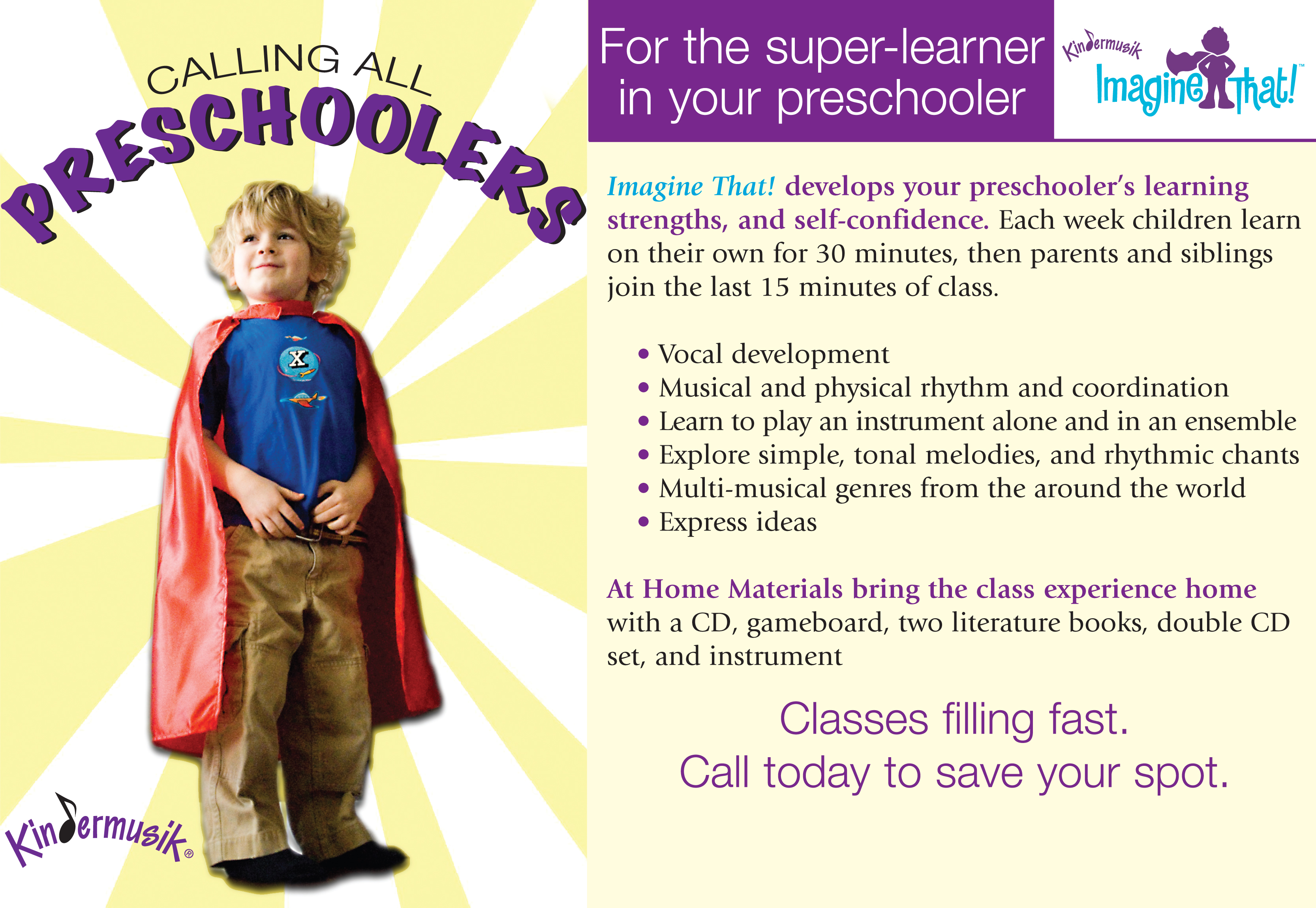 Unit Descriptions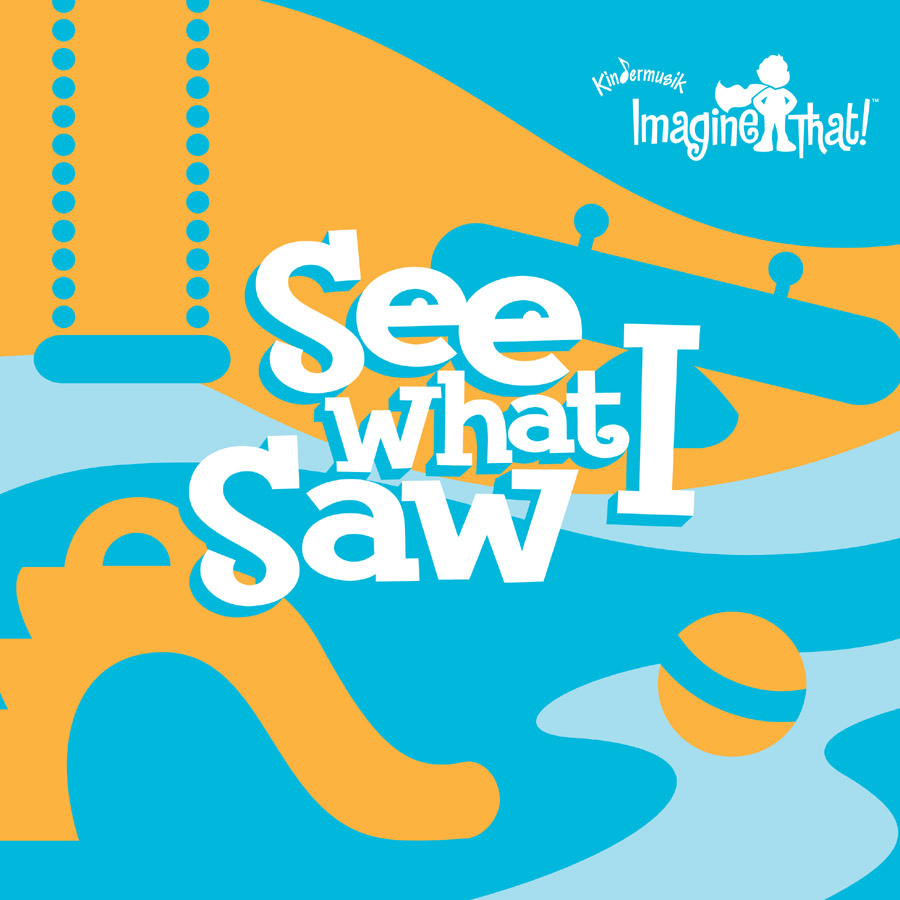 See What I Saw-August to December 2009-In this class, preschoolers use their real experience of playing in the park to create imaginative, storytelling scenarios with music—go on an imaginary trip to Grasshopper Park where they sail down the park slide and then recreate the sound of that experience with a loooong vocal glissando. Each week provides preschoolers one uninterrupted session of imaginative play that's guided in a very specific, sequential way—with a special sharing time with parents in the last 15 minutes of class
Home Materials: Two books—Can You Find Me? and The Ant Picnic Feast, Two Home CDs, See What I Saw Play Set, a Family Activity Book, a slide whistle instrument, and a backpack.


Hello Weather! Let's Play Together!-August to December 2008-sunshine, rain, snow, thunderstorms, and more in this imaginative and delightful weather-related musical adventure. Preschoolers create storm sounds with a drum to "Wild Storms," jump in pretend puddles to "Mud Puddle Jump," throw pretend snow-balls to "Snowballs," and sing along to "Colors of the Rainbow." With weather as our learning theme, preschoolers will explore musical styles that range from Opera to American folk, and become more self-sufficient in a creative musical environment that integrates music, pretend play, storytelling, movement, and more.
Home Materials: Two books—Michael Finnigan and Hurry Home, Little Kittens, Hello Weather Play Set, Two Home CD with over 63 recordings of the stories, games, and weather sound effects played in class, 46-page Family Activity Book, and two instruments—ankle bells and rain shaker with scraper.


Toys I Make, Trips I Take -January to April 2010-Think of it like taking a course inside a child's imagination. We'll use the theme of a toy shop to make our pretend-creations, using rhythm and songs with every imaginary saw, hammer, and nail. The result is building the preschooler's sense of a sequence of events, which is good for storytelling, as well as making his ideas a reality.
Home Materials: Two books—If I Had a Big Blue Boat and Tippity Tippity Too, Toys I Make, Trips I Take Play Set, Two Home CDs, Family Activity Book, and a drum.


Cities! Busy Places ~ Friendly Faces -January to April 2009-In this unit, sidewalks, elevators, skyscrapers, and world-traveling photographers are the theme. Learning through the pretend play that preschoolers adore, we'll be rhythmically busy playing storytelling games and handcrafting city "buildings" from wax paper at home so we can make a cityscape in class! Plus every activity has some at-home adaptations so the parent can take part in the learning. With a pair of resonator bars as a featured instrument, and a multicultural, jazzy collection of music, preschoolers will develop the social and intellectual skills they'll need in school.
Home Materials: Two books—Razupazu Toto and Down Our Street, Cities! Game Board Set, Two Home CDs—collection of multicultural and jazzy music heard in class, Family Activity Book, and a pair of resonator bars as the featured instrument.
top